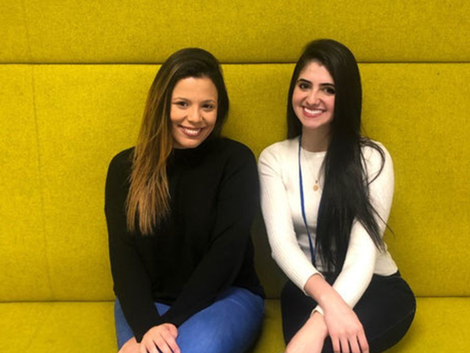 Two Isabelas, exchange students from Brazil, share their experience about living in the Netherlands: "It can be really challenging to be part of an exchange program, especially being so far away from your family and if you don't speak the country's language, and that is why we didn't know what was expected from us when we arrived in the Netherlands.  
At first, when we got here, the first difference we noticed was the weather, very cold and a lot of rain, so different from Brazil and very disappointing, to be honest. But on the other side, we were amazed by the high quality of public transportation and easy access, with people's green vibe, always riding bicycles and worried about the environment (even the companies). We can say that this way of thinking is contagious because, after our time here, we started to concern about these things as well. 
And that's the mentality we are taking with us to Brazil. At Zuyd University's Research Centre Material Sciences, located at CHILL we discovered the perfect combination between company/research, environment, and friendly people. The modern technologies, good structure of the laboratories, availability of equipment, boost training for companies and students, gym facilities… all of this makes CHILL a unique place. It also has a big plus: nice people always willing to speak English with us, introducing us to their culture and interested in ours, inviting us out, and teaching us basic Dutch… People who we can easily call friends, who became our family while we were here and the main reason why saying goodbye is such a difficult task. Besides that, we can't forget to mention how lucky we were with our coaches, Roel and Evelien, and with the lab coordinators, always available for us, willing to help and answer our questions (and believe us, we had a lot of them)".